Services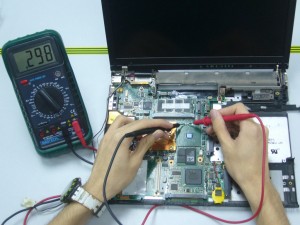 We manage the provision of a specialist area or support service for you. Our unique Out-task service can be tailored to suit your individual IT requirements offering specialist support where and when it's needed, allowing you to best deploy your internal resources where they are most effective. The objective of this service is to manage enterprise infrastructures from an availability, manageability and performance perspective. A host of services devised to meet diverse customer requirements spans simple reporting of basic level availability of technology infrastructure to advanced system administration activities. The services are delivered through Help Desk with Single Point of Contact. Depending on customer's requirement, the services are provided on a 24 x 7 basis.
System Integration & Upgradation Services
Microchip Solutions multi brand Hardware sales and system up gradation provides support to change over from phased out technology to new generation of systems seamlessly.
Microchip Solutions Hardware sales support also includes large Data Storage DAS, SAN and NAS based devices with Computer & Networking Systems with Peripherals.
Annual Maintenance Contract
We are a distinct Service provide by big organizations. This service is also known as Post Warranty Service which is Unique & customized. We ensure you data security and provide the replacement of damaged parts with authentic parts & resolve issues related to hardware & software.
Understanding the Customer requirement & the importance of time, we are here to attend to your calls at the earliest & try out best in resolving the issues at hand immediately.
Our specialized service for our Customer also includes providing a temporary system while we are working towards resolving the issue so that your work would not stop.
Understanding the customer requirement, We are there to serve our customers in every way possible.Microchip Solutions offers on-site state-wide service throughout Andhra Pradesh. For a fixed Annual fee, we repair problems that come up with any covered software or hardware. Our program includes a fixed monthly amount that includes the cost of parts, labour & support. Microchip Solutions offers full service and support for thousands of computer products, including systems from Sun, Dell, Hewlett-Packard, ACER, IBM, Compaq, Cisco & more. Our following services cater to the growth needs of the customers.
We attend your faulty equipment in the shortest span of time, usually the same day
Repair / Replace the defective & damaged components with original manufactured parts
We provide the service of preventive maintenance of your computer every quarterly
We perform a regular monthly check for virus
Our Engineers are there to ensure the connectivity of your network flawlessly
Budgeting of software upgradation done annually
We even provide our customers with accessories well suited to their requirements
Live phone answering
Technical & Help Desk support
Central call lines with efficient call routing
Script implementation and management
Stock inventory management
Central management with National coverage
Web based call enquiry interface & many more
Facility Management Services (FM)
Microchip Solutions has a sate of Art Test and Repair Centre with capabilities for undertaking chip level repair .It provides Troubleshooting and repair for all system Modules and Peripherals. Microchip Solutions Annual Maintenance Contract (AMC) services support ensures reducing down time of equipment significantly. We position trained professionals at clients sites backed up by technical support from Microchip Solutions head office. Help desk ensures immediate attention to any problem on the spot.
Microchip Solutions support quite often includes all spare parts to all types of systems with a fixed price contract. Effective help desk web based call management system has been setup to respond to Customer Call and ensure fast resolution. Microchip Solutions also provides Comprehensive Facility Management services to enable its customer to outsource any area of IT infrastructure management with predefined service level agreement.
Network Services
Microchip Solutions is into Small, Medium and Large system Integration, Design and Maintenance of Network Solutions and build infrastructure that is reliable, scalable and cost-effective.
Microchip Solutions has expertise in offering integrating multi-vendor solutions, products and technologies.
Microchip Solutions designs, develop and implements comprehensive enterprise security framework that safeguards company's information assets with Physical, logical and perimeter security.
Microchip Solutions Network Facility Management helps organization to achieve availability, performance, security goals.